Feedback from the children

It is a challenging, tactical, mind-puzzling game that gives your brain a workout. Jayed
Go was the best game I ever played. I am very inspired. Sadik
Go makes me think a lot. I'd like to learn more… this was the most challenging game I ever played. I didn't at first understand but then it became really fun.
I found Go very strategic, interesting and challenging. It was like you're the leader of an army. Michael
I liked Go because it was hard and difficult. It also sends your mind crazy.
My first game of Go was very challenging, enjoyable, interesting and frustrating when your stone has been captured and then later you realise how you could have deflected that particular move.
It was very tricky.
When you are concentrating on how to surround your opponent you have to be aware of what your opponent is thinking. Shiyeth
(above from Tower Hamlets 30 schools event)
Can be enjoyed by all ages Sam
Uses logic. Easy to learn but hard to play well. It was good, but you have to think a lot!
Go is an amazing and mind-expanding game.
It was fascinating! I wish it lasted longer as I enjoyed the experience thoroughly.
I believe my mental abilities have increased dramatically
(above from National Academy for Gifted Youth event)
Go is brain-boggling if you don't know what you're doing.
Today I have played Go. It is brilliant. Hopefully we can make a club. It's amazing and tactical.
I think this was one of the best courses I had been on as it was fun and challenging, and I made a lot of friends. I think that the people who ran the course were enjoying themselves, as well as us. It was a very good idea to give us a booklet to keep, so that we could go on learning about the game and having more fun by teaching it to other people. I think that the people who ran the course really knew what they were talking about, and had thought everything out really well. I am very impressed with the game itself, as I haven't even heard of it before. I am glad that I went on this course, as I love mind challenges/games and this was the right thing. Overall, I am very impressed, and would like to go on a Go Fest Challenge course again
Megan
(from West Sussex enrichment course 03)

Feedback from professionals
What I was really impressed with was the pitch of the workshop and your innate ability to tailor the presentation to the ability of the pupils and get them 'hooked' and thinking. The workshop provided such a brilliant learning opportunity that was really measurable by the concentration from the pupils and enjoyment of playing, a room full of smiling faces is the best measure of anything.

From Andrea Broadbent, Tameside Excellence Cluster Manager
Go is an exceptional success with the pupils at Ditcham Park, appealing to and spanning both age and ability ranges. The response has been unprecedented with the children keen to participate. The children were totally involved when playing paired Go and the speaking and listening aspects of literacy were there to a high degree with the whole group enthralled.

From Linda Griffith, Ditcham Park School, Hampshire
Peter and Sheila gave us a great strategic thinking session with Go on our Solution Focused Thinking day for clients - exceeded our expectations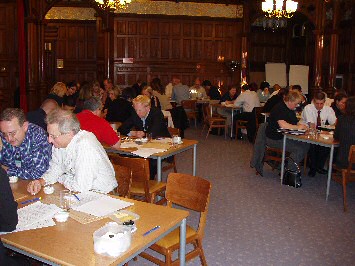 From Andy Gilbert, Group Managing Director, Go MAD Research and Consulting Group.
Everyone had such a fantastic time.

Many thanks to you and Sheila for making it such an enjoyable day. Seeing the children so immersed in the game makes all the effort tremendously worthwhile. In a world full of sportsmen and women who display such negative role models, it was a breath of fresh air to know that in Go the children can learn the true value of respect and sportsmanship.

From Elaine Hall-Freeman, Vita et Pax School, North London
Dear Peter and Sheila,
I am so sorry that I have not been in touch much sooner today but amazingly I have not had a minute to even switch my laptop on. Most of my day (and last night in our boarding house) I have been faced with children playing Go, wanting me to play Go, wanting to know how to order boards........so many questions!!
It was definitely one of the best afternoons our children have ever had and we have some wonderful photos showing the children playing, children engrossed in listening, and thinking and many photos of children challenging teachers! Last night in the boarding house children were ready for bed and still playing Go....
Our Headteacher Bob was just so disappointed to miss it. I have just spoken to him, he has seen the photos and Aubrey has just played him and beaten him and taught him so much about the second stage. He had no idea. He can't wait to meet you so I will check his diary tomorrow and confirm whether he can make Feb. 11th. I am sure he will try so hard to be there. I am sending a letter home on Friday asking for confirmed orders by Monday, then I will be in a position to phone up to place a big order I think. I may even have orders for the more elaborate sets that you mentioned in a previous email. All the staff would like me to thank you and I can tell you now that in recent days some members of staff were very dubious indeed. They just could not believe it yesterday and had great fun and learned such a lot too. Never a bad thing!
Thank you for your offer to help us set up a league. I definitely think that would be a very good idea here. Thank you again and one final apology. I totally got swept thinking I had to keep everything moving, that I forgot about some tea for you both. Next time you visit I will make amends,
Best wishes
Claire
From Claire Phillips, Head of Maths, Salisbury Cathedral School
Hello Peter

I hope you had a pleasant trip to Japan. That was a fantastic weekend and I'm really pleased to be able to invite you back in the summer. It will be the first two weekends in August if you are free? 6th/7th & 13th/14th.

Quotes...

"The most complete intergenerational, cross cultural family event the Imperial War Museum has ever hosted"

"It is amazing to watch children who have only just grasped the concept of GO teaching their parents how to play"

"Watching teenage boys participate in a museum educational activity with such enthusiasm is tremendously rewarding"

"Visitors asked me, Why here? Why GO at the Imperial War Museum? Having spent 5mins learning to play they understand why. To play GO, sitting in the same room as a nuclear weapon, the same "LITTLE BOY" type as dropped by Enola Gay on Hiroshima was a profound experience for all." (There was a famous title match, known as 'The Atom Bomb Game' being held when the bomb was dropped- PW)

Thank you both

Take Care

Grant

From Grant Rodgers, Education Officer, Imperial War Museum

A huge THANK YOU for coming to our school. The children obviously enjoyed the game. We have now appointed a member of staff to promote Go within Trosnant Infant School.
The children really enjoyed the opportunity to visit Collingwood and participate in Masterclass. It makes for very good inter-school and community relations. Ideas from the session can be used in our maths games club.
An enjoyable afternoon. Well presented. Starts off simple but we quickly see the possibilities of the game.
A very enjoyable day for the children. They said they would play it at home and would feel confident teaching 'first capture' to their friends.
A great game. The children seem to have really taken to it, though the teacher is still confused! Great to see quiet pupils mixing with those from other schools and different ages.
A thoughtful, interesting game, well explained. The children had plenty of time to practise the basic and then more advanced game.
They enjoyed being able to play it straight away. Better than chess, easier to learn, but challenging.
I would like to introduce it as an enrichment activity at school.
A great day, thank you! Fab thinking skills, great challenge. Good for all abilities.
The children seemed to grasp the game better than the adults on our table.
Well demonstrated, interesting game. Enjoyed playing with the children. Interesting to see how well they picked it up.